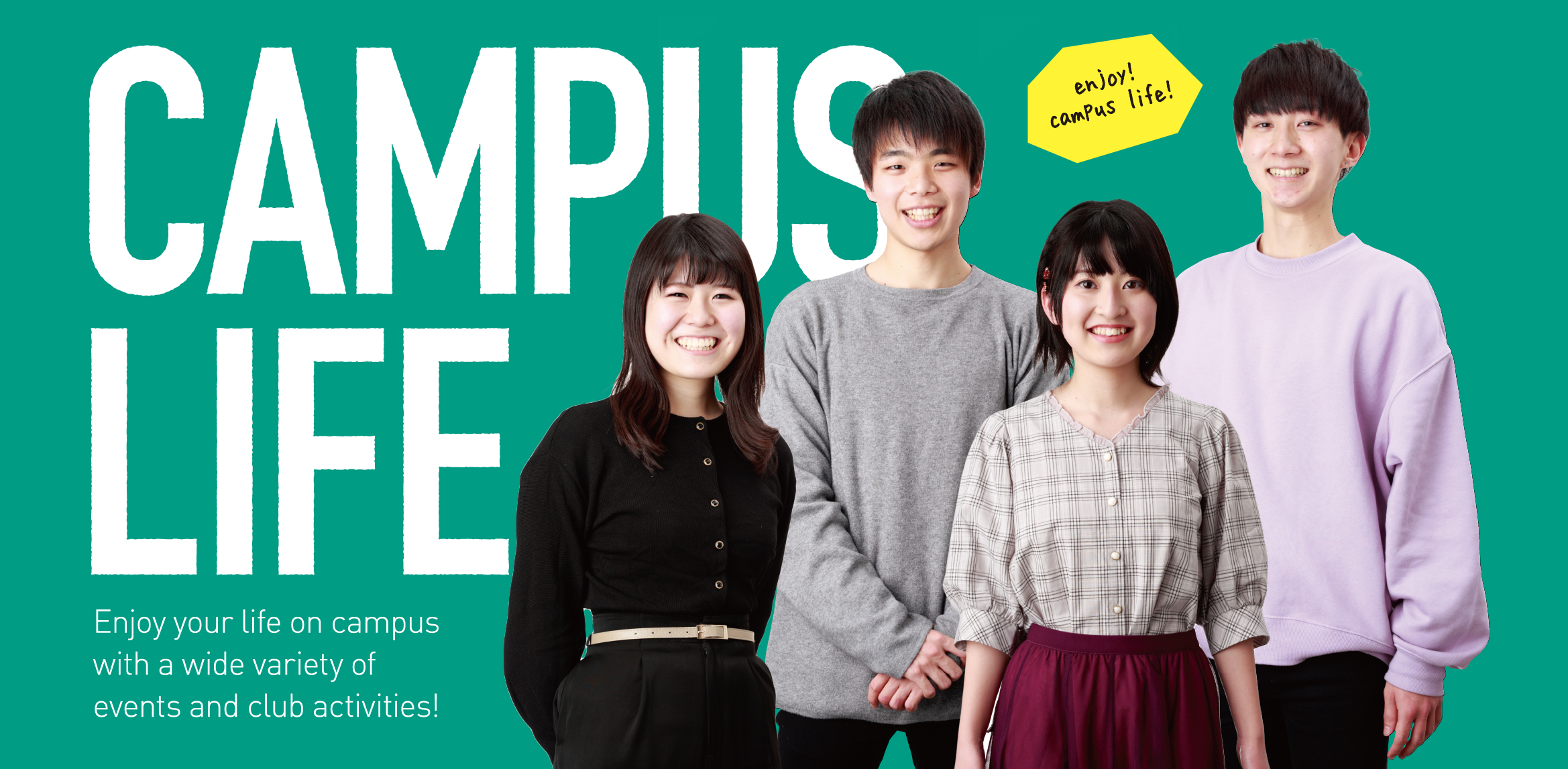 HOME
>
Campus Life – ENJOY!CAMPUS LIFE
A spacious campus with a variety of facilities
supporting educationand research

Buildings occupy about 69,000㎡ on a land area of about 180,000㎡, i.e. four times as large as the Tokyo Dome.
A total of more than 2,000 undergraduate and graduate
engineering students study here. The campus includes educational facilities for daily study as well as research facilities with tangible advanced technology.
Library

The library holds approximately 150,000 books, journals, periodicals, electronic book journals, newspapers, language learning materials as well as DVDs. PCs and iPads can be borrowed as well. It provides about 400 seats in a variety of rooms and areas, such as single study rooms, multi-purpose rooms and group study rooms for studying in groups while having discussions, or the PC area for self-study. The so-called Communication Hall of the Library where food and drinks are permitted provides a space not only for studying, but for taking breaks in between classes. The library is open seven days a week and on national holidays (except for year-end and New Year's holidays and during spring break).

●Reading Room (1st floor)

●Communication Hall
Terminal room

It is a campus facility that provides various ICT services required for education and research to users. There are 274 PCs. It can be used other than lecture hours.
Communication Atrium

A free space for students to meet and interact.
Student Lounge

A facility that provides place and tools for student handicrafts. Technical staff is available to give advice at any time.
Cafeteria

Students can enjoy a rich selection of dishes at affordable prices in the cafeteria.
Center for Regional
Community

The Center is a facility to promote joint research and collaboration with the region, and is home to the Okhotsk Industry-Academia-Government Fusion Center, the Kitami branch office of the Hokkaido headquarters of the Organization for Small & Medium Enterprises and Regional Innovation, Japan, in addition to a university-launched venture company. The Center has also become a base for human resources training and development.
Health Administration
Center

The Health Administration Center with one doctor and one nurse was established to preserve and promote the health of students, faculty and staff. The Center performs periodic health examinations in spring every year, and contributes to health education including disease prevention, early detection, and guidance regarding health care. It also provides health consultations, first-aid treatment as well as professional health counseling.
Stores

The stores on campus offer stationery, clothing, food, books, computers, electronic goods, airplane tickets and more.