Graduate School
There is no end to research in science and technology. In the highly networked information society, the latest technologies and systems can be distributed in moments. In such a situation, the necessary knowledge and skills accordingly change day to day. Graduate school is a place where students can gain the latest knowledge and deepen their thoughts. Students gradually formulate and consolidate their future visions through master's and doctoral course studies.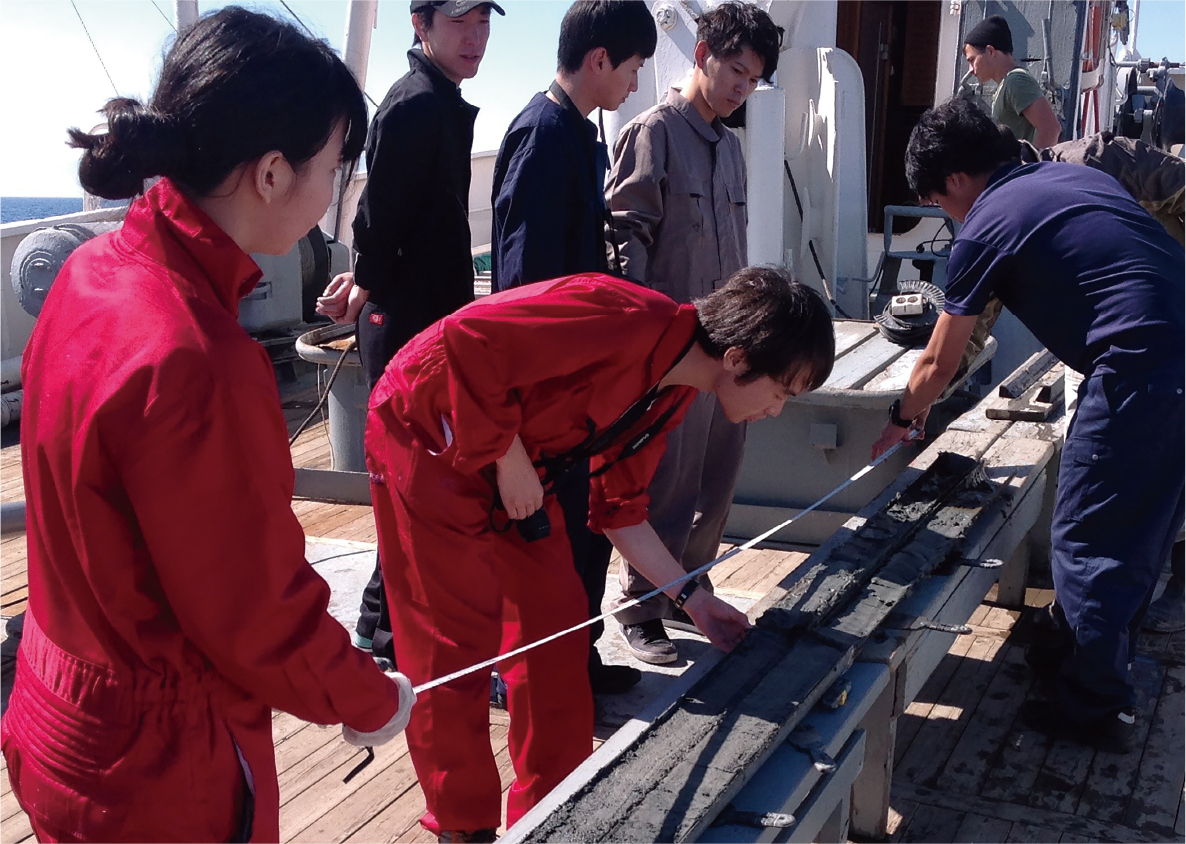 Expectations for graduate school education
In the 4-year undergraduate program, students learn academic fundamentals and gain basic skills in each respective school. However, to respond to the complexity and sophistication of science and technology, knowledge and skills beyond those gained in undergraduate studies are necessary. To promote Japan as a science and technology-oriented nation, graduate schools are expected to send off many students trained at the graduate level, and who are internationally minded, creative and capable of problem-solving, into society.
Graduate school education and research
While emphasis in graduate education is placed on advanced classes and seminars using documents and articles in foreign languages, there is also a focus on developing presentation skills, with lessons conducted in small classes. Naturally, master's theses are important in fostering creativity and problem-solving skills,
and students present their research outcomes at, for example, academic meetings or scientific societies. Companies also take notice of our human resource development, and we maintain an employment success rate of nearly 100%.
Many activities and opportunities abroad
In the graduate school, students conduct their own research in their respective special field. They have an opportunity to present their research results at various scientific societies not only in Japan, but also abroad. In addition, students are given a chance to go abroad for research to do field studies, for example. The university provides financial assistance reimbursing some of the travel expenses in such occasions. Having many contacts with partners abroad is a major feature of the graduate school.
TA and RA systems:
Simulated learning, as teacher or researcher
In our "Teaching Assistant (TA) System," excellent students enrolled in the graduate school have an opportunity to assist faculty members in teaching undergraduate students, such as in experiments, practical training or seminars, with remuneration from the university. Serving as a TA allows graduate students to refresh their basic knowledge while gaining leadership and teaching experience. The "Research Assistant (RA) System" allows excellent students enrolled in a doctoral program to participate and assist in research projects, with remuneration from the university. While striving to promote research activities and the enhancement of research-related systems, graduate students can refine and improve their skills and knowledge as young researchers. Both systems provide financial support for the betterment of students' campus life.
Admission Policy of
Graduate School of Engineering
Located in the "Okhotsk region" that is blessed with a rich natural environment, Kitami Institute of Technology (KIT), with its motto "Developing Technology that Harmonizes with Nature," aims at promoting research that contributes to the development of regional and international communities. KIT strives to nurture human resources that can play an active role in society in the science and technology fields through its education and research. To achieve these goals, KIT Graduate School of Engineering seeks people with the qualities and abilities shown at berow.
Master's Program

Willingness to contribute to sustainable development of society as a responsible professional engineer
Basic academic skills and cooperative attitude needed to identify the essence of engineering problems, tackle them together with others and tenaciously seek solutions
Determination to contribute to development of new scientific technology, without any stereotypical views
Doctoral Program

Professional knowledge and broad perspective equivalent to master's course completion in the field of engineering
Interested in local and international issues, and a strong desire to realize sustainable welfare thought science and technology
Ability to communicate appropriately with a wide range of people in Japan and overseas, and work together to solve problems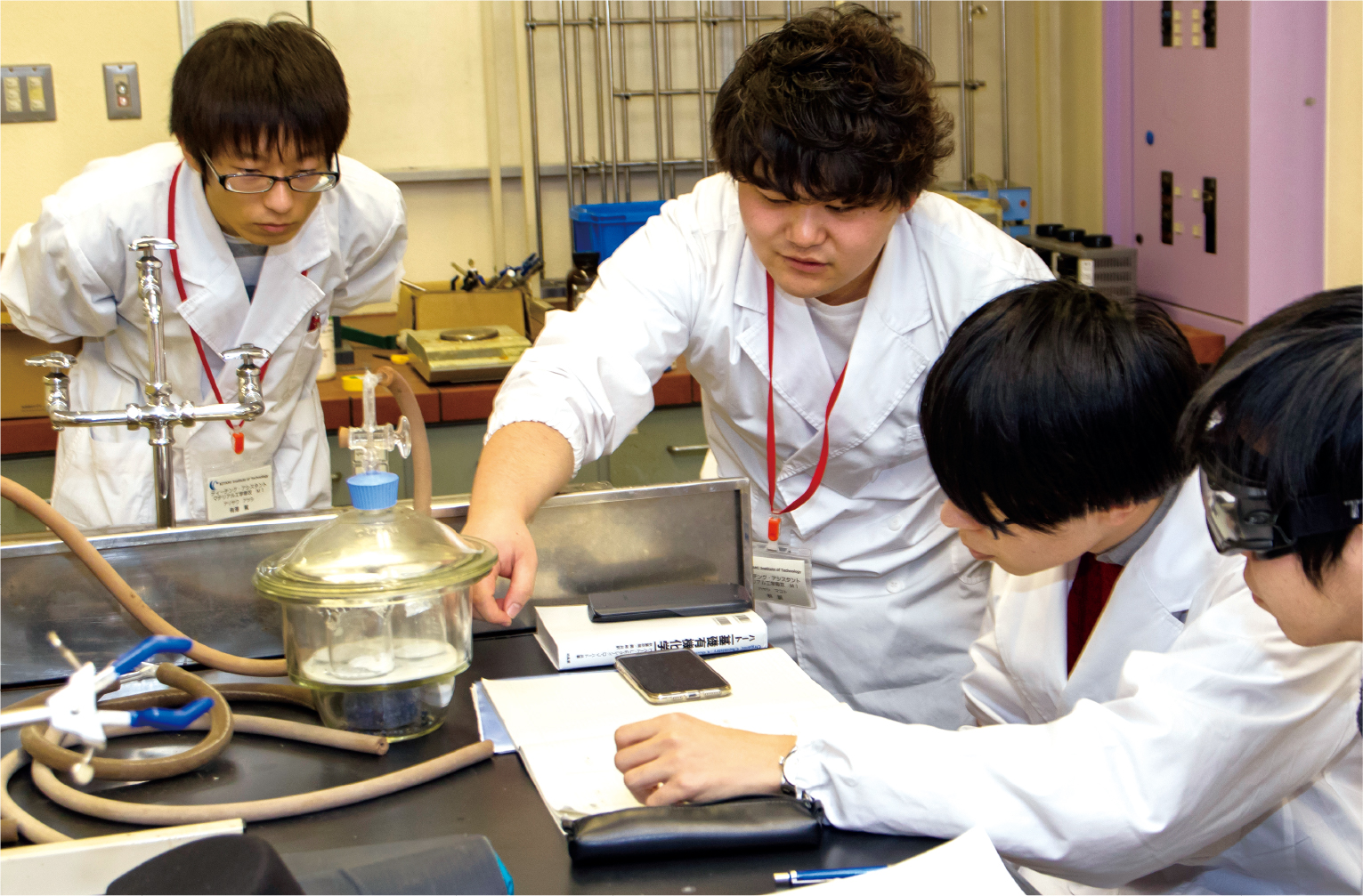 A teaching assistant (TA) helps students during an experiment related to advanced materials engineering.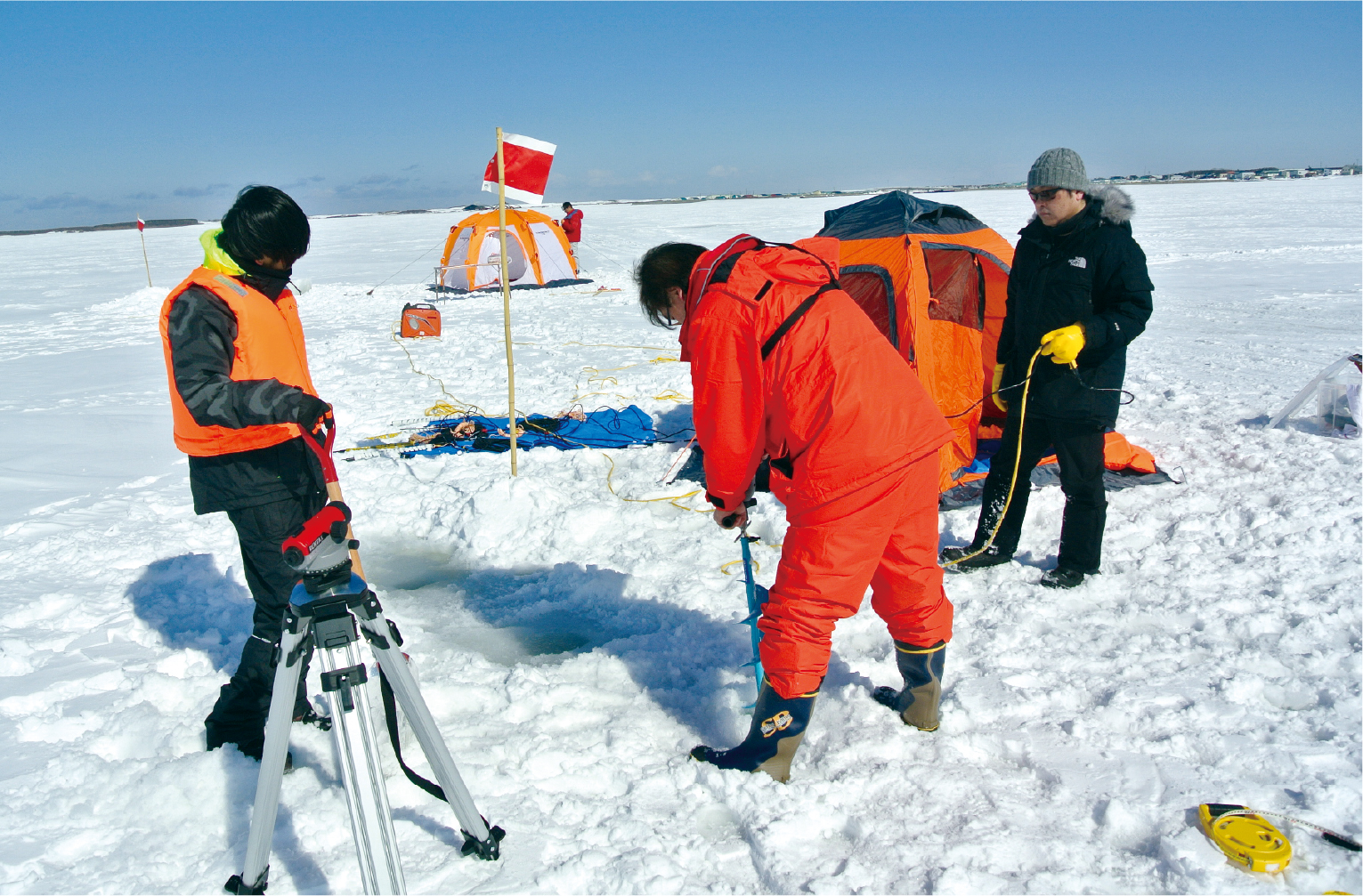 An underwater acoustic communication test is conducted from the surface of icy Lake Saroma in Tokorocho, Kitami City, Hokkaido.